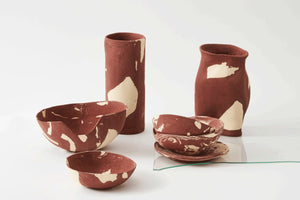 Collection 003 / Mestiza
Contemporary artisan ceramics made in Madrid.
Objects with soul and character; behind each one of them the essence of the ancestors, that which has been mixed to create unique contrasts; MESTIZA is the magical result of the opposite, it is love and respect for the land, pride for who we were and for what we are together.

"In the beginning there was only Bague, the Mother Grandmother. Then Ring he screamed, and the gods, the light, the plants, the animals, and the Muiscas appeared. Then the gods filled a pot with seeds and stones, and sowed stars in space. They took the crumbs that were left in the pot and threw them far away, and that was the origin of the stars ... "

Discover the history behind each of the MESTIZA pieces, inspired by the characters of the myths and legends of Pre-Columbian culture.
Each piece is unique, you will not find the same :) They are made manually and without molds so they may present slight irregularities that are part of the charm of the collection, pYou can order more units and check shipping times by sending an email to hola@naterstore.com